---
What challenges will the aviation sector face as it attempts a "return to flight"?
After suffering an unprecedent hit by the Covid-19 pandemic, the time for the aviation sector to take off again finally nears. With passenger traffic down 90% year-on-year and two-thirds of the global commercial fleet sat idle in April 2020, advanced vaccination has allowed domestic travel to gear up again, leading to the much-awaited resurgence of the aviation industry.
As more aircraft get ready to return to the skies, we list the top challenges the already reshaped sector will face. As Dave Warfel, a regional head of Aviation at AGCS said, "challenges will no doubt emerge as the industry readies for take-off again; although it is hard to predict in exactly what shape it will return, one thing is for certain: it will have changed."
Pilots Need Practice
The first issue is pilot rustiness. Dozens of them have already reported making mistakes like having multiple attempts to land, so airlines will have to be careful with how they handle the situation. A few airlines have already developed a series of training programs for pilots re-entering service, as risk management is likely to remain a priority for the sector post-Covid. A key area to be monitored is sightseeing flights. With an expected influx of tourists, pilots unfamiliar with local routes could eventually lead to a new number of fatal accidents, including helicopters, as we have seen in recent years.
Rage Against the Air Machine
A second worry concerns potential "air rage" incidents. Following an extended period in social distance, people have somehow shown a certain level of intolerance when it comes to respecting the rules. That could mean passengers refusing to wear masks in aircrafts. Although the matter seems small at first, these incidents could result in costly legal issues, with many reports of passengers claiming to have been discriminated against by airlines in America. To illustrate, there are around 150 reports of passenger disruption in the United States in a typical year; by June 2021, the number had already crossed the 3,000-mark, according to the Federal Aviation Administration.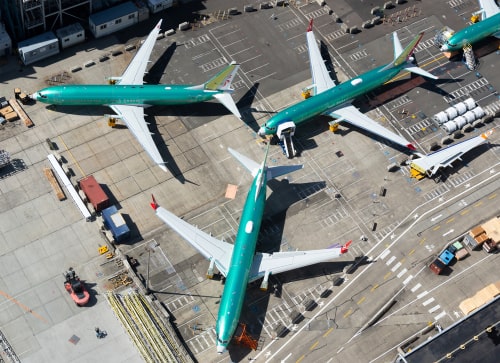 Planes grounded in Florida, USA during the COVID-19 pandemic
Concentrated Risk
Thirdly, although most of the world's airline fleet is still parked, loss exposure is even more concentrated on the runway. Numerous incidents abound of grounded aircrafts being damaged by hailstorms and hurricanes, for example. Furthermore, collisions as aircrafts get ready to be reused should be taken seriously. The industry has never seen so many aircraft out of service, which means that smaller airlines should face significant challenges when reactivating fleets, in a process that has no precedent.
Another, fourth challenge the sector has not had to respond to for some considerable time is pilot shortage. If the pilot demand was already outstripping supply pre-pandemic (annual passenger growth in China alone was 10%+ a year from 2011), it is reported that more than a quarter of million are required over the next decade. "In less regulated countries, shortages can lead to pilots operating commercial aircraft with limited qualifications and low overall flying time," says Warfel. "Pilot fatigue is also a known risk among existing pilots that must be properly managed. Fortunately, there is a lot of industry expertise and resources available to assist airlines in building proper fatigue management systems." A way out of this issue is investing in flight schools, which is a substantial amount of money many cannot afford, especially at this delicate moment. Even if that does go through, insurers should keep their eyes open as accidents (and even total losses) are common in these environments.
Airline Business Risk
Technical and operational problems aside, what other kind of impacts can we expect the sector to see? The most obvious one regards business travel. Pre-Covid this specific traffic amounted to $1.5 trillion a year (1.7% of global GDP), but many argue these days may be over. With the pandemic forcing companies to find new ways to collaborate, cheaper remote alternatives such as video calls have proved to be a great success. Such significant cost reduction comes along with the improvement of their carbon footprint.
Air Cargo Gains
Ending on a more positive note, other aviation sectors, such as air cargo operators, have performed strongly and the expectation is for that to continue going forward. Thanks for rising business confidence, ever-growing e-commerce platforms and congestion at seaports, in April 2021 Asia Pacific had its best month since the pandemic began, while freighter capacity grew by almost a third in May in Latin and North America, compared to the same period back in 2019.
Although some of the trends above will cause some sleepless nights to the C-suite, they also present the industry with a timely opportunity to evolve. Given the unprecedent challenge the sector is going through, airlines can take advantage of this forced break to learn from what has changed and adapt for the new post-pandemic reality.
---