Airlines avoid Ukraine airspace and insurers pull out of country as crisis deepens
---
Global airlines including Emirates and KLM have diverted their aircraft from Ukrainian airspace while insurance coverage has been restricted for any aircraft flying over the country, as the crisis in Ukraine shows no signs of being resolved.
In the wake of the warning by the US that Moscow could invade its neighbour within days, many airlines have taken matters into their hands, diverting, or cancelling flights entering Ukrainian airspace. Lufthansa and British Airways are said to have been avoiding the region but not made a formal announcement.
Driven by demands from their insurers, global leasing companies have requested all their planes to be moved from Ukraine. Ukraine International Airlines moved five of its 737 Boeing to Spain on Monday after a request by the leasing company. The company had requested an official notification from insurance companies to terminate the insurance of aircraft for flights in the airspace of Ukraine according to news sources.
SkyUp Airlines, a Ukrainian airline, was forced to land a plane in Moldova after the leasing company that owns the aircraft said the carrier couldn't enter Ukrainian airspace, due to insurance coverage being withdrawn.
"Negotiations with insurers have been difficult, and our foreign partners continue to regularly assess their own risks and monitor the situation", said SkyUp's CEO in a statement, quoted in Reuters.
This was despite the Ukraine's Government offering a $592 million fund to ensure flight safety in Ukraine for insurance and leasing companies. Ukraine's Infrastructure Ministry said on Sunday that the country's air space remains open and that some airlines are operating without restrictions but did note that some airlines are having problems with insurance providers.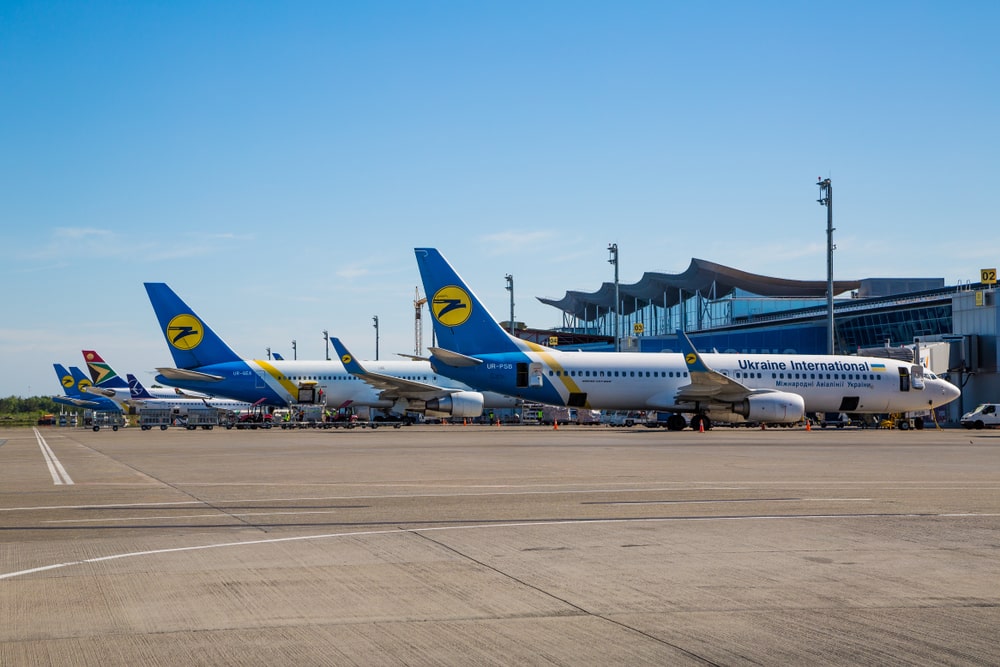 Airlines Flee Ukraine
With 100,000 Russian troops amassed on the Ukrainian border and with diplomatic talks faltering, the drum beat towards war is starting to get louder.
Lloyd's of London is expected to suspend coverage for flights in Ukrainian airspace according to various news sources.
Speaking to Reuters on Monday, Neil Roberts, Head of Marine and Aviation gave a subtle hint towards this move saying that insurers have told clients they could give just 48 hours-notice to exclude Ukraine but that did not necessarily mean that cover had been terminated.
"It means that there is an invitation to negotiate coverage. War risk insurance cover is being agreed in some cases on a rolling 24 hour or 48-hour basis, which is prudent", Mr. Roberts added.
Worst Case Scenario
In the wake of actions from the West in response to Russia's aggression in Ukraine, many security experts are concerned about a proportional Russian response. Politico reports that Moscow had held out until the last minute to grant overfly rights to US Airlines.
A possible scenario of Russia banning passenger and cargo flights from using its airspace would create huge problems for long distance flights between Europe and Asia, even if this makes no economic sense from the point of Russia, which receives a lucrative financial revenue stream from such flights.
In 2021, Russia handled 194,296 transit flights, which works out as 532 overflights a day on average, which is 37% below pre-COVID traffic in 2019, according to the Federal Agency for Air Transport.
This Russian air corridor stretches across 26 million square kilometers (10 million square miles), making it a vital trade corridor for Europe, USA, and parts of Asia.
In such a scenario, airlines would be forced to divert flights south and fly longer as they would avoid the Middle East too, adding a significant cost to airlines at a time when they are just recovering from the COVID pandemic.
A view echoed by Yuji Hirake, president and CEO of All Nippon Airways Co Ltd speaking to Reuters:
"If there is an emergency, we have no choice but to avoid Russia and fly the southern route", said Mr Hirake before adding that "since the demand for international flights is so low due to the coronavirus pandemic, we may choose not to fly in the event of an emergency."
An alternative scenario could hark back to the days of the Cold War, where European flights would fly to Anchorage in Alaska and refuel before dropping down to destinations such as Tokyo. Such a prospect would call into question the economic cost of such flights.
Officials at Anchorage have said that they have not been contacted and such a scenario would require an increase in the ground-level capacity at the aircraft.
Yet, Russia's aviation fleet is not immune from the global market, with two-thirds or 515 jets of the total 980 Russian passengers jets being currently leased from foreign firms with an estimated $10 billion market value.
While the world watches the outcome of the crisis, the aviation industry has already taken the first precautionary step in reviewing both flights and insurance coverage.
Many will not want a repeat of the MH17 incident in 2014, when a Malaysian Airlines plane was shot down by a Russian aircraft during the Russian-Ukraine crisis.
---