Russell has highlighted several potential vulnerabilities impacting the specialty insurance classes from Hurricane Ian.
---
On 28/09/22, Hurricane Ian made official landfall in the Cayo Costa, Florida, as a top end CAT 4 hurricane with sustained winds 150mph at approximately, as of 11:00am local time.
However, by 3:05pm local time, Ian had been downgraded to a Tropical Storm, despite packing sustained winds of 60-70mph and having traversed most of the State of Florida, dropping 20 inches of rain in places and ravaging the western Florida seaboard with a record-breaking storm surge.
Official maximum wind gusts from Ian were recorded at 124mph near Port Charlotte, Florida but this is likely to be surpassed in post-analysis.
The storm is now heading out over the Atlantic, but Ian may further re-intensify over the weekend into a Hurricane again on its approach to its second US landfall location along the Carolina coastline.
Ian is widely accepted as the fourth strongest storm to hit Florida, three times the size of the fifth largest, Hurricane Charley in 2004. Conservative cost estimate range from $30bn-40bn but as the true extent of the damage is assessed, it will likely surpass this figure, meaning that Ian could join the Top 10 most expensive US storms ever.
The connected risk the storm poses is not limited to Florida residents and property but encompasses a range of sectors including aviation, marine, environment pollution (liability) and energy exposures.
Eye of the Storm
Ian will be remembered for some time by meteorologists for its continual and widespread lightning in the eyewall (unbroken vertical wall of clouds) of the storm for nearly twenty four hours suggestive that the storm was be intensifying.
The sheer size of the eyewall, in its continual lightning and energy have extended the hurricane force winds across the US coast. The eyewall was likely the thickest that has ever been seen, with such a large hurricane wind field, some locations experienced 150mph winds for 4-6 hours stuck under the eyewall as the storm moved north-east, meaning that this will likely add to the extend and severity of the damage in some regions.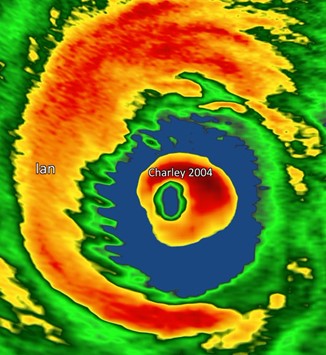 Source: Advanced Hydrologic Prediction Service: Tampa Bay Area (weather.gov)
Wider Connected Risk Impacts on Specialty Classes
In terms of the wider connected risk, Russell has highlighted several potential vulnerabilities impacting the specialty insurance classes, including aviation, marine, energy and casualty.
Airports
Hurricane Ian has disrupted businesses and travel in, grounding flights and forcing Tampa and Orlando to close its international airports. Most of the cancellations were at Orlando International Airport and Tampa International Airport. Airports in Fort Lauderdale and Miami stayed open yesterday, but had more than 600 cancellations by the afternoon.
Some smaller airports across Florida also closed on Tuesday, with Melbourne Orlando International closing on Wednesday afternoon and announcing it will remain shuttered on Thursday.
The Washington Post reported that as of 2:30pm (US Time) on Wednesday 28th September, 2,111 flights across the US had been cancelled with another 1,721 axed for Thursday 29th September.
Florida flights accounted for 1,800 of the Wednesday cancellations and flights scheduled for four Florida airports accounted for over 1,400 of the Thursday cancellations.
Aviation - Planes flipped and damaged by tornado
More than 15 planes were damaged in a tornado at North Perry Airport in Broward, said Sky News. Several hangars were also severely damaged in the storm, The Fort Lauderdale-Hollywood International Airport said
Power – The Electricity Grid
Sky also notes that eleven million people in Cuba have been left without electricity after Hurricane Ian slammed into the island's western tip. Cuba's Electric Union said power was initially knocked out for about one million people in the west of the country but later the entire grid collapsed. In Florida, as this blog was being written, two million households were already without power.
Marine – Ports and Shipping
Hurricane Ian, as it approached the west coast of Florida, appeared to shift further southwards away from Tampa Bay and made landfall just south of Port Charlotte, according to Trading Risk.
Casualty/Liability - Pollution
The polluted leftovers of Florida's phosphate fertilizer mining industry, more than 1 billion tons in "stacks" that resemble enormous ponds, were at risk for leaks or other contamination when Hurricane Ian comes ashore in the state, says The Independent, quoting environmental groups.
Florida has 24 such phosphogypsum stacks, most of them concentrated in mining areas in the central part of the state. About 30 million tons of this slightly radioactive waste is generated every year, according to the Florida Industrial and Phosphate Research Institute.
Casualty/Liability – Entertainment
Fox News announced that Walt Disney World theme parks in the Orlando, Florida area will close for two days due to Hurricane Ian. Affected areas include the Magic Kingdom Park, Animal Kingdom Theme Park, and Disney's Hollywood Studios.
Energy - Lost oil production
Hurricane Ian is also disrupting the energy sector, with oil producers BP and Chevron halting production at offshore oil platforms in the Gulf of Mexico, said CBS News. According to the report, "BP said it had evacuated personnel from its Na Kika platform, which produces 130,000 barrels of oil per day as well as 550 million cubic feet per day of natural gas. It is also cutting production at its Thunder Horse platform, which produces 250,000 barrels of oil per day, as well as 200 million cubic feet per day of natural gas."
Chevron also said it is removing personnel from its Petronius and Blind Faith platforms and temporarily suspending operations at the facilities. Combined, they produce around 120,000 barrels of oil per day.
Conclusion – Connected Risk Across Classes
For all United States hurricanes, Hurricane Katrina (2005, $186.3 billion) is the costliest storm on record. Hurricane Harvey (2017, $148.8 billion) ranks second, Hurricane Maria (2017, $107.1 billion) ranks third, Hurricane Sandy (2012, $81.9 billion) ranks fourth, and Hurricane Ida (2021, $78.7 billion) ranks fifth.
Possibly Hurricane Ian will add to this list but as the situation unfolds, Russell will be providing further updates on the storm strength and possible impact on insurers, reinsurers and corporates, as well as the connected risk outcomes.
---