Vietnamese Trade is booming as businesses look to reduce dependency on China
---
Gone are the days where tensions on one side of the globe would not hurt the other. We can thank ever-increasing interconnected world for that. Geopolitics, therefore, is no longer a matter of local governments, but an issue that should be taken seriously by the planet. If one is still not yet fully convinced, the current situation in Vietnamese ports can quickly change one's mind.
If Washington and Beijing do not seem in a hurry to resolve their issues, the international market acts otherwise. Amid uncertainties as to what to expect geopolitically, some of the biggest suppliers to global tech companies have started to cluster at Deep C Two, an industrial estate in northern Vietnam. The demand has been so incredibly high that its developer is already considering creating more space — and even pushing back the South China Sea.
The area, close to Haiphong Port, has become so coveted that foreign investment in Vietnam crossed the $22 billion mark, hitting a decade high last year. And this is part of a crescent Chinese exodus as global companies, fearing curbs on what and where they can manufacture, are moving to different locations before it is too late.
"Koreans, Taiwanese, Chinese — there seems to be an unstoppable transfer or at least relocation from mainland China into other countries", affirmed Koen Soenens, Deep C's sales and marketing director. And whenever foreign companies still in China ask them what is next, the answer is: "For the Chinese market, stay in China; to serve our overseas clients, look for a new location."
The graph below helps illustrate how, even after initial spikes, the trading good values in Haiphong are expected to be very steady throughout 2023: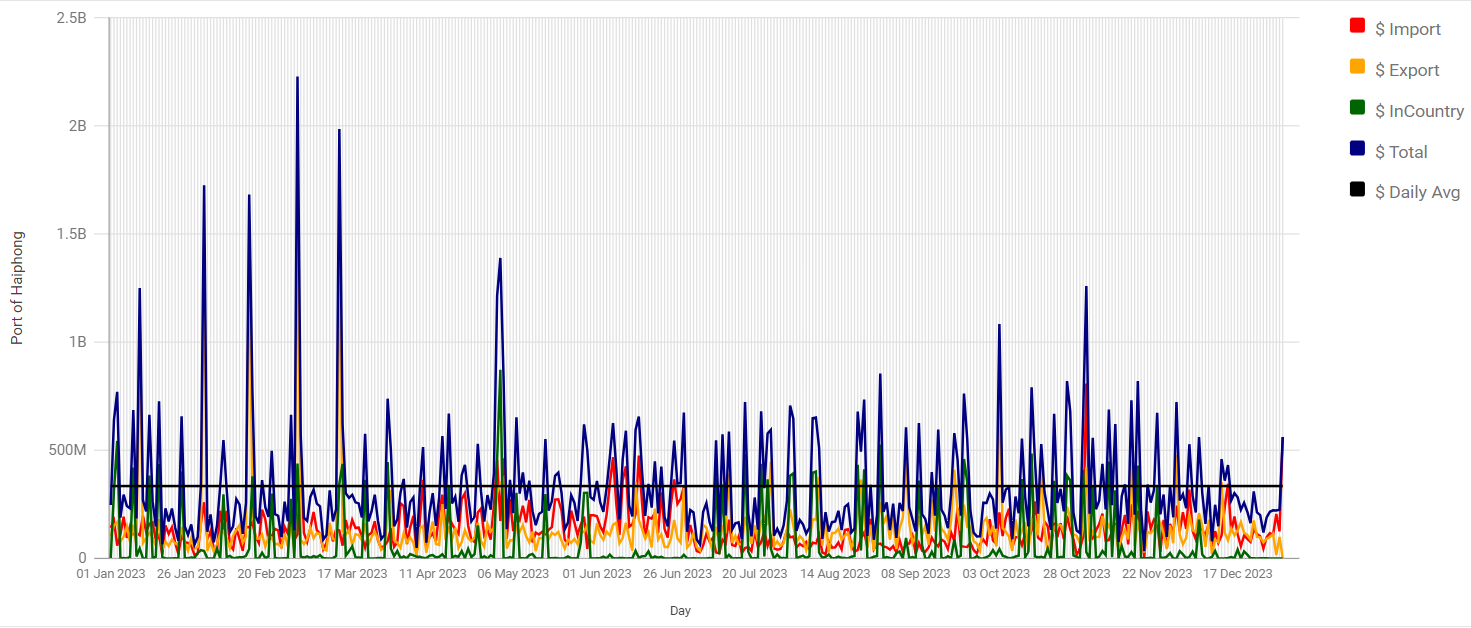 Source 1: Yearly Annual Port Trade for Haiphong, Vietnam (ALPS Marine)
And although this looks like an easy short-term alternative, is it wise to rely so deeply on Vietnam? Granted, the country's export-led growth has pulled millions of people out of poverty in the last three decades, whilst also establishing themselves as one of the key players in the tech supply chain. The trend, however, exposes various risks and uncertainties of shifting resources to such a historically unstable economy, where bureaucracy and physical infrastructure are already straining under the weight of demand in a turbulent global economy.
"They received this strong trend of investment... up till now it has been easy for them," a European diplomat said, questioning whether Vietnam had the infrastructure for further growth. According to him, the country is at a crossroads, where it had to ease bureaucracy, create a more transparent regulatory framework and get rid of "absurd" red tape.
Vietnam's finance minister, Ho Duc Phoc, seems to disagree. According to him, the country's infrastructure is improving and becoming more modern. Cheap labour, however, seems to be his biggest triumph: "We have an abundant and cheap supply of labour... [it] will be cheap for a long time".
Still, international investors are already noticing a tightening labour market. Pegatron, for example, the Taiwanese company that became one of Apple's biggest suppliers, hopes to have 20,000 workers in Deep C – rising questions as to how they will find those people. Furthermore, Vietnam's highly qualified young people also expect to earn far more than the monthly minimum wage, which for the biggest cities is 4.68mn dong ($198). "I can tell you now the normal average salary for people my age is 15mn to 18mn a month", said Tran Khanh Ly, a 24-year-old business developer in Ho Chi Minh City.
And there is the over-dependency on Chinese manufacturing to factor in, too. Although logistics help, what happens if there are any disruptions to the flow of imports? As we can see from ALPS Marine analysis (see image 2 below), China represents 46% of Haiphong's total imports ($22 billion) and that is, according to Michael Kokalari, chief economist at VinaCapital in Ho Chi Minh City, "our Achilles heel". He continues: "To the extent there are supply chains, it is [companies such as] Samsung or LG bringing their whole supply chains here."

Source 2: Imports in Haiphong, Vietnam for 2023 (ALPS Marine)
Regardless, the market does not seem to care about any potential issues – nor does Deep C's representatives. "The gates open, they come in," said Soenens, which is considering further sites. And with political tensions far from coming to an end, there is no reason for them to stop. After all, the impacts of the most recent pandemic are still fresh, and the international market will act with all the precaution in the world.
---